TRADITIONAL CHINESE MEDICINE / ACUPUNCTURE Ben Kim is a registered ACC provider Oriental medicine regards all living things as comprised of Qi which are both visible and invisible, thus everywhere such as lights or dark materials in the space. Acupuncture is a philosophy to solve disharmony of lives with the nature. Needling is the only medium, there are various ways to achieve healthy life through food, exercise and other methodologies. We are born to have natural healing powers. They are invisible to tip over the mind and spirit to healthy directions, and influence the visible manifestations of body by themselves. It is suitable for a wide range of conditions such as: PAIN RELIEF Muscle / joint pains, Migraines / Headaches, General pains, Strange pains INTERNAL DISORDERS Asthma / Rhinitis, IBS / Reflux, Muscle weakness, Urination disorders, Skin disease LIFESTYLE Diabetes, High Blood Pressure / Cholesterol, Cold Hands / Feet, Tiredness PSYCHOLOGY Anger / Anxiety, Stress / Depression, Insomnia, Hunger GENERAL HEALTH Weight Control, Women's health, Stroke, Hemiplegia, All neurological conditions, Lymphatic disorders Acupuncture needles feel nothing like having an injection at the hospital injections. Having a needle inserted is mostly a very gentle sensation.
Ben
Acupuncturist / Chinese Medical Herbalist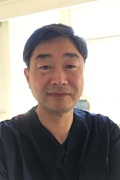 Ben studied traditional Chinese Medicine at NZCCM, Auckland Studied Osteopathy at Unitec in Auckland for 3 years Worked as Acupuncturist and Chinese Herbalist at Shenlong Chinese Medical Clinic, Auckland Ben comes from a Korean family of 3 generations practising Korean Traditional Medicine Ben's special area of interest is dealing with any kind of pain, including elusive "strange sensations". Ben belongs to the NZ Acupuncture Standard Authority Association and is ACC registered.
Healing Herbs and Acupuncture
27 Grove Road, Addington, Christchurch
0274993798
Monday

Tuesday

Wednesday

Thursday

Friday

Saturday

9:00am - 7:00pm

9:00am - 1:00pm

9:00am - 1:00pm

9:00am - 7:00pm

2:00pm - 7:00pm

9:00am - 2:00pm